'The Ramparts' is the perfect holiday villa for rent - for anyone looking to explore the sights and countryside of the Languedoc region in the south of France.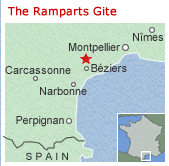 Based in the traditional wine-making village of Saint Geniès de Fontédit, the villa offers 3 double bedrooms so is perfect for a family or a group. The 2nd floor terrace offers 'al fresco' dining with spectacular views over the surrounding Languedoc vineyards.
Click the links below to find out more about this lovely holiday villa for rent in Languedoc, the south of France - and please do contact us if you have any questions or if you wish to make a booking.