< BACK TO 'ABOUT THE LANGUEDOC'
Villages: Aigues-Vives
History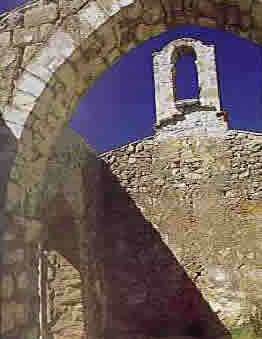 The Church of Saint Martin Le Vieux
The commune includes three hamlets: Cailhol, Paguignan, Cazelles. The original name of Aigues Vives was Aquaviva (988) - aqua : water - viva : lives; thus "running water" or "gushing source". It has also been known as: Aigue-Vive (1519); Aigues-Vives (1625); Aigues-Vives-le-Roi (XVll century); Aigues-Vives-la-République (1793).
Of particular historical interest is the church of St. Martin Le Vieux, which stands in the hamlet of Paguignan, situated between Aigues Vives and Saint Jean de Minervois. It was during the Revolt of the Gauls that a temple was erected on this site. A Roman stele from this era, dedicated to the Roman Emperor Augustus the First, can still be seen. In 145 the edifice was destroyed by fire and only the right hand section was reused later in the construction of the altar stone of St. Martin Le Vieux.
The arrival of the Visigoths opposed the evangelisation of Gaul. A vestige from their occupation is a marble capital from Paguignan, which can currently be seen on display in the Nissan Lez Ensérune musuem. Of the following Merovingian dynasty and the Saracen invasion during the first millenium no traces can be found.
It was between 1220 and 1228 that the Franciscan and Dominican monks, whose task it was to evangelise the heretics, notably in the heart of the Cathar region in the Aude valley, settled in Paguignan. Here they built a church in the gothic "méridional" (Southern) style. St. Martin Le Vieux bears rare witness to an era of church builders whose influence extended as far as Marjorca, where the méridional style coexists alongside the Cathedral gothic style seen in Narbonne or St. Nazaire in Carcassone.
The seigneury belonged to the crown and was sold in 1284, to be repurchased and then resold in 1343 to Pierre Beauxhostes. The consuls of Aigues-Vives took the seigneury from Jean Pech in 1725 and gifted it to the Bishop of Saint-Pons.
Sites of Interest
Chateau
16th century church
In the surrounding area :
Pre-historic cave at Les Balmes
Stone age sites
Roman villa at Croupio
Ruins of 12th century church of St Martin at Paguignan
Remains of Visigoth church at oppidum (fortification) of St Vincent
Beautiful walks, especially along the banks of the Cesse
Activities and Economy
Festivals and fairs on: 25-26 December for St Etienne, 20th January, 29th June and 3rd August
Gymnastics, Tennis, Amateur dramatics
Wine: AOC Minervois red, white and rosé; Cave La Minervoise, Domaine Bablo, Domaine Lignon
General Information
Population: 358
Altitude: 169m
Shops and services: 2 grocer shops, baker, 2 restaurants, hotel, gites, chambres d'hotes, hairdresser, various craftsmen, church, display of regional products
Getting There
From Montpellier, take the exit for Beziers-East/Beziers-Centre, then drive towards the town centre until you see a sign for Bédarieux. Aigues-Vives is 30 minutes drive north of Béziers just off the D909 travelling towards Bédarieux.