< BACK TO 'ABOUT THE LANGUEDOC'
Villages: Cazouls
History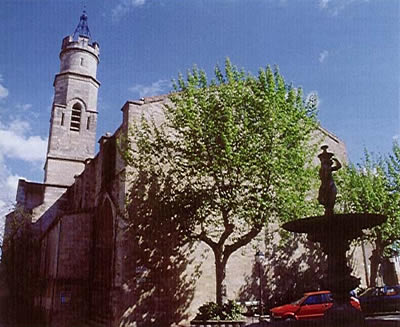 The church in Cazouls
Founded in the first centry by the Romans on a road linking up with la Domitienne highway, the town of Cazouls is in a perfect spot.
Cazouls is just a few kilometres from both mountain and sea which are both part of the panoramic sweep. At its feet, boxing it in, the "Puech" mountains rise up, crowned with pine copses. The Orb, to the east of the town, is a river abounding in fish, and flows all the way down to the sea.
Sites of Interest
The St. Saturnin Church, mentioned in 993, which has undergone several partial reconstructions: the frieze on the entrance porch, (classed as an historical monument), the high altar, a marvellous example of the silversmith handiwork of Ercuis, dating from 1878, and the bell-tower from 1857.
The Clock Tower : clock from 17th century (classified monument)
The Chapel of Notre-Dame-d'Ayde.
The Visigoth Chapel of St. Vincent-de-Savignac (classified monument)
The Castle of Savignac-Le-Haut.
The RoqueBlanque menhir and the location indicator of Languedoc's A.O.C's (superb panoramic view).
The "Salle du Patrimoine" (Heritage Room), open daily from 10-1200 and 17 - 1900 hours, June to September.
The Abbey of Fontcaude, situated on the edge of the town (founded in 12th century by the Norbertine or Premonstratensian Order).
Activities and Economy
From 6 - 15th July, a week of events: village festivities, concerts, dance and fireworks.
From 5 - 21st October : Cultural fortnight.
Tennis
Pétanque
Fishing
Rambling
General Information
Whether in the co-operative or private cellars don't miss the opportunity to taste the local wines: Coteaux du Languedoc A.O.C and Saint Chinian A.O.C.
The village has a supermarket, all amenities, cafes etc.