< BACK TO 'ABOUT THE LANGUEDOC'
Villages: Cessenon-sur-Orb
History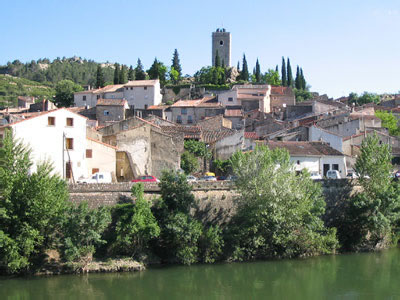 Cessenon - on the Orb river
The origin of the name comes From Cenceno, Cencenonous (around 972), man's name Coecina or Cecina plus the suffix - one : domain of Cecina.
The Church of St. Pierre de la Salle is a good place to start the history of Cessenon. The first construction on this site would date from the 1st and 2nd century AD, and would have been a mausoleum built in the middle of a Gallo-Roman necroplis, situated on an ancient crossroads and close to many sources.
This construction most likely gave birth to a modest chapel, at the beginnings of Christianity. Modified over the centuries the church was too narrow to receive the people of Cessenon. The town consuls, judging the parish church of St. Pierre de Figuières to be too far away, petitioned the King for the purchase of some of his land outside the town walls. After several years of negotiating (1290 to 1299) the King finally agreed on 6th May 1300 for the price of 180 livres for the expansion of the church and its cemetery, on the condition that the building was attached to the walls of the town. St. Pierre is thus a striking example of a fortified church whose walls, formerly crowned with battlements and behind which ran a covered way, provided the town with a formidable shield.
The bell-tower, which also served as a watchtower, was destroyed, and today the only remains are some anchorings. Frescoes from the 15th century were discovered inside during restoration in 1991.
We can pinpoint the birth of the village to July 972. The name appears in a settlement made on her children by Garsinde, the widow of the Count Pons de Toulouse. It seems likely that the fortress had been built in the preceding century, the village subsequently growing around it. The only element still to be seen of this medieval raised defensive platform is the keep.
This tower is the unifying element of the village. To the rear it is buttressed by a rock base, and reveals the location of the fortress as a whole. Quadrangular, unorthodox, constructed from local materials, it has been modified many times and stands at 15m. Of the gargoyles that used to adorn its corners, there remains just one very simple example.
Nowadays the keep, exposed to the elements, remains a symbol of an ancient yet marvellous past. Looking out over a bed of vines planted above the river, it flies the Occitan colours on its summit, hinting that the fortress was for a long time one of the important historical players in the province.
At its feet there are only some remains of the ramparts that were demolished in 1209 during the Crusade against the Albigeois (Cathars). Again reconstructed, they were definitively destroyed in 1633, victims of the Wars of Religion.
General Information