< BACK TO 'ABOUT THE LANGUEDOC'
Villages: Laurens
History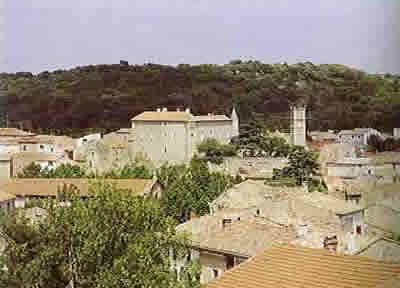 Laurens
This ancient little town, situated 30 kilometres from the sea on the slopes of a chain of hills overlooking the north of the Béziers plain, lies bathed in the Mediterranean sun. Flora thrives in this favourable landscape, especially the bay laurel tree, whence its Roman name from the 1st century AD of "Laureus" or Laurens.

In the 3rd century the villagers, now wholly christianised, were jealous at the lack of a Patron Saint of which all the neighbouring villages could boast. They decided on St. Laurent (Laurentius), and it obviated their searching too far. The citizens proved themselves to be greatly industrious from the start. In the place known as "the Kilns" (les Tuileries) two dozen potters, maybe even more - at Millau, on the bank of the Tarn, there were 400! - made flat-bottomed Gallo-Roman amphoras, coated on the inside with resin. These vast receptacles, stored in wicker baskets or buried in the sand, conserved the wine of the Roman colonies that settled in the area.

Various industries characterised the town over the centuries up until the arrival of monks in the 12th century. This breathed new life into a wine-making culture which until then had been an individualised family-run industry.
Sites of interest
Fortified village
Laurens Castle (12th century)
Grézan Castle (ancient Commandry of the Templars), entered in the additional Inventory of Historical Monuments.
Activities and Economy
Marble quarries

Leisure centre

Swimming pool

Tennis

Stadium

Co-operative
General Information
Population : 1018

Altitude: 140m

3*** Camping and caravan site

Wine cellars (tasting)