< BACK TO 'ABOUT THE LANGUEDOC'
Villages: Magalas
History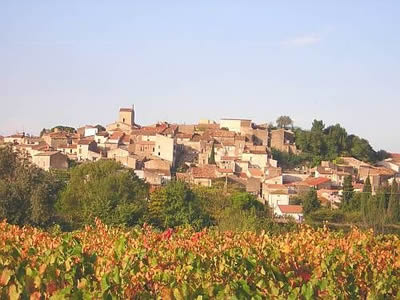 Magalas
With its origins on the stony hillsides of Montfo dating back to the 5th century BC, it later became a Gallo-Roman community. A fortification was added during the barbarian invasions. Magelas is derived from "Magal" meaning "heap of stones". "Sauta rocs" ("rock leapers") was the name given to inhabitants of Magalas.
Sites of interest
Succumbing to the charm of the medieval alleys one can wander around the old part of the village where squares, porches, city ramparts and period houses have retained all the authenticity of their origins.
One may prolong this ambience by going to discover the remains of the castle and its Romanesque chapel with its portal and nave, already recorded a parish in the 11th century.
Activities and Economy
The dynamic associations here are active throughout the year, bringing you a wide range of activities and events, including the festivals of:
the Holy Cross on 3rd May

St. Laurent over the first weekend of August
A cortege of floats with the village totem, a dragon.
Magalas benefits from its privileged position at the heart of a large vineyard of quality, between the Mediterranean, the Montagne Noire (Black Mountain)and Cévennes. The many buildings put in place by the communal authorities reflect the intense wine-growing culture here:
A "wine and agriculture" area : educational centre focusing on the culture of the vineyard, making wine and agricultural life.

Carillon of 40 bells unique in the region, with accompanying concerts.

A video library and wine cellar : tastings, wines for sale and guided tours.
Also on offer is "l'Audacieuse", an economic and crafts area which rounds off the various services and facilities of the village.
General Information
· All amenities can be found in the village, along with a supermarket, a SNCF rail station, 2 restaurants and 2 cafes.